What kind of service do you need?
YOU ARE A BUYER. ORDER READY PRODUCTS FROM JEWELRY CATALOG
Classic Designs, findings, chains and accessories :
Please visit our Online Catalog (Public access shows limited amount of items only)
*Coming soon*
Unlisted Products:
In order to protect ourselves from copies we do not display online everything we have that is ready to produce.
Please register in the online catalog and contact us with specific demands.
We will then grant you access to interesting products according to your specific requests.
- OEM Services available, with tagging, stamping and packaging.
YOU ARE AN INDIVIDUAL NEEDING A UNIQUE PIECE TO BE CUSTOM MADE
You found a picture of the perfect wedding ring, or you need a custom made medallion to baptize your child, or you found a picture of a jewelry piece that you would like to modify to your taste, or to use with your own gemstone, we can help you designing and creating your own custom made jewelry piece.
Since you might not be a professional jeweler, we will guide you through a simplified process to design your jewelry and calculate a price.
YOU HAVE YOUR OWN MOLDS AND CONSIDERING TO SHIFT PRODUCTION WITH US
Provide molds and Samples:
We need to see samples of the quality of products achieved using your molds (whether this is what you want or what you don't want) to measure your expectations, see how to improve the product, see the quality of gemstones and accessories.
Test Production:
We still need to make a "test order" which will help you to set your quality standard with your remarks on a small test series, and this stage helps us to confirm the pricing, the processing time, the supply in materials according to your standards.
Regular Production:
Prices, timeframes, QC points and quality standards are set. We are ready to take orders.
YOU ARE A DESIGNER OR A BRAND CREATING YOUR OWN JEWELRY LINE
Professional jewelers, creators, jewelry designers, brands, and retailers willing to create your own line of jewelry products. The process for you is a little more detailed.
Design:
First, you need a cost effective design, technically valid (working), carrying your original concept, and fitting your quality requirement for a good image of your Brand and identity. We will rework your design with your cooperation to achieve this goal.
Modeling:
Once the design is up to your need (composition and average price) we go to modeling process using hand wax modeling, 3D CAD rapid prototyping or work directly on a silver master by hand. Sometimes we use a combination of the 3 techniques for different parts of your design.
Molds and samples:
From this model we create molds to reproduce the pieces in series and we deliver samples to confirm the product configuration and temporary production price.
Test Production:
You are then ready to make your first "test order" which will help you to set your quality standard with your remarks on a small test series, and this stage helps us to confirm the pricing, the processing time, the supply in materials according to your standards.
Regular Production:
Prices, timeframes, QC points and quality standards for finish and gemstones are set. We are ready to take orders.
3 Levels of commitment:
1) Creation Only:
We can help you to create only, delivering samples first and once satisfied you can retrieve the molds, 3D Files, etc.
2) Punctual orders:
We can produce medium to large quantities on punctual demand. In this case we cannot guaranty that the orders can start immediately. We can give a starting date and timeframe only at the time a customer places an order, depending on workload and materials sourcing timeframes from our suppliers.
3) Manufcaturing Agreements:
We can enter a venture where we guaranty capacity in exchange of a guaranty of minimum order in the form of a manufacturing plan established for a 120 days period or more for the production of a certain quantity of items in customer's collection. No matter how small the quantity chosen by our customer on this period we will guaranty the production of up to 3 times more if needed.
This venture allows us to allocate a part of our manpower to the customer's project with respect for other customers' accounts and respect for our workers' job stability in case of important project requiring the establishment of a dedicate production unit..
DESIGN AND SPECIFICATIONS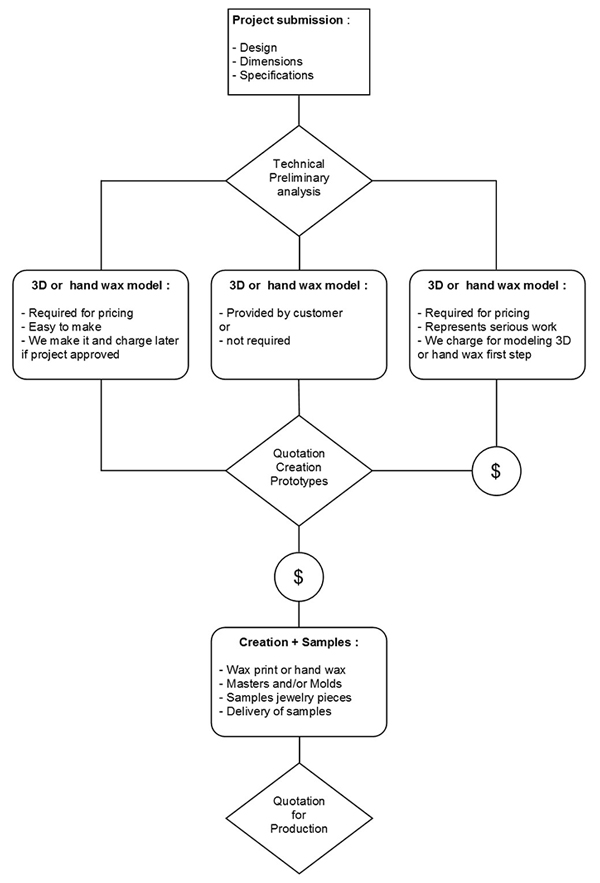 HOW TO SUBMIT A PROJECT FOR QUOTATION
Present yourself, your company activity, the services you need from us
Before sending your sketches you might need our NDA Standard Contract in order to protect your Intellectual Property on your designs. It is our ethical duty to respect your intellectual property, nevertheless if you need a written agreement please provide your full physical address and responsible person name to fill in the contract.
Please copy/paste this text in your email and modify/delete the text according to your situation
Please finish to READ THIS ENTIRE FRONTPAGE before you contact us:

Product type and name:
Regroup your descriptions under a paragraph for each product.
The paragraph should have the product name as header.
(Ex: Pendant-01)
Pictures related to a product should have the same root name.
(Ex: Pendant-01-example-of-chain.jpg or Pendant-01-side-view.jpg)
Sketches, Technical Drawings and Dimensions:
(
Design Templates
)
Try to imagine that you are the one trying to build a 3D object or to make a price yourself, then what information would you need?
1- We need at least the global dimensions of the entire piece (length, width, depth)
so we can put it on real scale, calculate other dimensions proportionally and evaluate the weight of metal and the size and amount of gemstones.
2- If you already know the weight
, even in another metal please let us know.
3- The scale is important
and the most common mistake when the drawings are not made in real size is to have stones or engraving that are too small when we put it on real size. Please refer to the gemstones section and the engraving section to take in account the technical constraints regarding minimum sizes available for gemstones and minimum line thickness for engraving.
The easiest way not to forget basic information is to use our templates to build your documentation, and you can use the letters (a) (b) (c) etc to specify dimensions for sides that are not visible on your sketches.:
(
Click here to access the Design Templates Page
)
Metal, plating and texture:
Please do not forget to specify which metal base you need and the plating for silver items (ant tarnish only, or rhodium plated or gold plated). By default we consider that everything is polished shiny but you can specify a texture like mat sandblast or brushed.
(
Click here to learn more about plating and textures
)
Stones:
They will influence the price and the look of your jewelry.
Please be very specific regarding the nature of the stones, the colors, the quality or transparency.
See our link hereunder to make sure you are choosing appropriate gemstones varieties for your project.
(
Please read about gemstones availability by size
)
(
Please read about diamonds
)
(
Please read about pearls
)
Chains and Findings:
They will influence the price and the look of your jewelry.
Cheap and super light butterfly ear backs will save a lot on studs but the look is not same.
Using a non-conventional chain will make your jewelry look unique but then it is important to arrange the supply.
RESEARCH AND DESIGN
Unless the project is really basic and simple, we will always start with a detailed Technical Design or a 3D model because it is the best way to avoid major changes during the construction of the jewelry which could have an unexpected impact on the cost of the creation (dangerous for our business, or upsetting surprise for the customer).
Before sending any pricing or commit to the creation of a product
we must make sure that our interpretation of the design specifications is correct in matter of dimensions, proportions, gemstones sizes and fitting, technical details of part and assembly.
We must also verify availability of gems and materials on the market, in the required sizes, or propose alternatives.
Sometimes we cannot determine all this just by looking at a sketch or a picture, and we will need to make a model (by 3D or by hand on wax or metal)
Case 1 :
For very simple designs we might advance the 3D design right away and send 3D pictures with a quotation for Creation and Samples.
Case 2 :
For more complex jewelry (unless we are provided with a 3D File or full detailed data on an existing piece of the product) we will charge for 3D Design or Hand Wax modeling prior to give a quotation. In this case we might provide a rough estimate of the product cost before charging for design modeling, but we cannot guaranty that the final technical solutions, weights and labor are correct until we go through the design modeling process.
Design is part of pricing optimization:
Design is a step during which we will operate major choices and optimizations that can impact the price of the jewelry up to 50% up or down: Weight and thickness, amount of parts to be assembled, size, and spacing of gemstones, findings, etc. Discussing or negotiating prices before this work is done is not constructive unless the design is very simple.
In any case the customer has the possibility to get the 3D files, or to continue up to full creation of molds and samples with us. After that if our price is still not suitable the customer can decide to pay the exit fee and retrieve his 3D Editable files, eventual masters and the molds and to continue to production stage with another manufacturer.
Why paying for design when you are not sure to produce with us the series?
The design and modeling work is the real definition of your product. The deference between CONCEPT and REALITY is the design and the CREATION processes (modeling, molds, samples). It is a required step that can be use for copyright, patent or to obtain more quotations later on, because it comes with composition details and weights.
Why it is better to make the 3D Design with a manufacturer?
Specialized Design Services are doing beautiful work, but not always functional (splitting the parts for casting and assembling in an efficient manner), not always taking in account the availability for stones on the market (sizes). The manufacturer is responsible for making the real product, facing technical challenges, reworking such file to make it work in his own standards and according to the reality of the market for materials.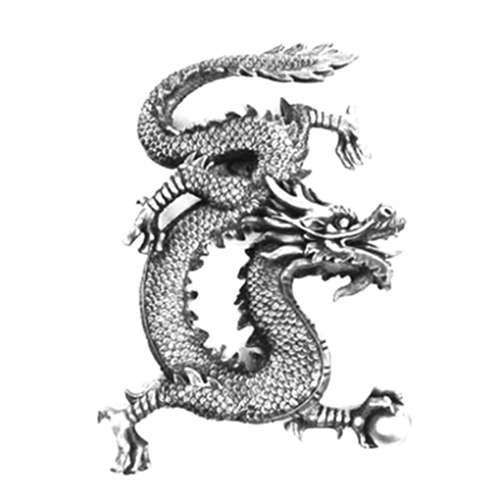 Figure on the left:
A customer will send us a picture and ask to have this dragon made as a raised 3D dragon on the surface of each link of a gold bracelet (15 links).

The impact of the dragon on the weight of the bracelet is not negligible, and we do not know how much gold can be saved at the back of the dragon unless we actually make the design. So we charge the customer for the design first.

We decided right away to make the scales on the skin of the dragon to be larger than the initial drawing in respect for the maximum resolution of the Solid Scape wax printing machine..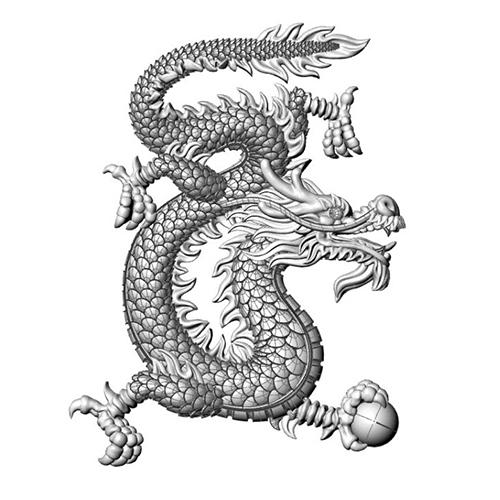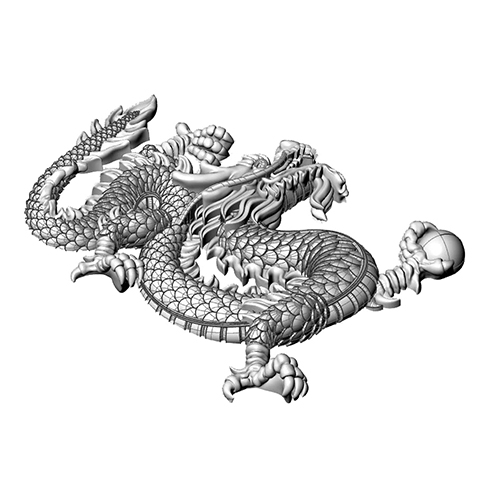 Submission of technical designs on scale and multiple views:
Depending on the simplicity of the design (possibility to evaluate weight and stones amount from drawings). We will or will not charge for hand modeling or 3D Design work prior to deliver a quotation. For very simple designs we might advance the 3D design right away to get a precise quotation very fast.
Submission with 3D Editable files (.3DM, .OBJ or .JCD):
We should be able to provide a quotation. In this quotation we might still charge a small fee for research, and inspection or modification of the 3D file regarding the technical viability.
Submission of pictures or sketches, single view, with notes on the drawings :
When the design is submitted on 2 dimensional sketches, or as a single view picture, we will appreciate notes to be made on the drawing rather than a long text of explanation. Try to provide as many details as possible to help us imagine the 3D configuration, relief, raised and recessed areas etc.
Submission of pictures or sketches with only global dimensions only and lack of details:
The research and jewelry design step will be charged prior to give a pricing and will be slightly higher than a project presented more professionally. The worst design submission is a picture copied from internet and sent to us via mobile phone with absence of real though to the design concept.
As always we bring our full insight and suggestions regarding price target, cost optimization, choice of stones and materials.
* Design Interpretation:
The Jewelry Design stage purpose is to make the creation possible, bring technical solutions and a cost effective interpretation using available materials. Therefore in case we charged for Research, 3D Design or hand, Wax modeling and we find technical restrictions that will not allow the exact configuration whished by our customer, then we are not bound to respect precisely the customer specifications provided before the design stage. We allow ourselves to bring slight modification to make the creation and the production possible, and of course participation, ideas and solutions brought by our customer are welcome.
Nevertheless if no realistic solution is provided by the customer we will deliver our version and will not make any refund for claims arising from the fact that the concept is just not possible with the technology or materials at our disposal.
QUOTATION FOR CREATION AND PROTOTYPES
At this point we will provide 3D Pictures in multiple views (or pictures of a wax made by hand, or a master in metal made by hand, and a quotation for CREATION and SAMPLES.
CREATION:
Creation is to be paid only 1 time per product version, or product size. .
Modifications or variations as well as additional sizes can generate more expenses depending on which step is to be processed again among the following tasks:
Research and Design:
To design the product in compliance with the matérials available on the market, and make it technically functional, while optimizing the weight or fiding solutions to reach price target.
Wax Modeling:
Using hand wax modeling or rapid prototyping to print a wax from a 3D Design file, this step is the first material modelization of the product that can be use to make a mold. Eventually this wax will be casted into a metal piece called a master, but we also can make a mold directly from the wax.
Masters
A master can be also made directly by hand in the metal. This is the case for flat object (by sawing) or organic shapes that can be obtain with wires, plates bands or spheres in metal.
Laser engraving
Some patterns can be printing by the wax printing machine down to a certain size (0.3 mm) but saller patterns or text must be engraved by laser in the metal before making a mold so the patterns or text can be already on each piece after casting..
Mold
- Transparent silicon mold (cold mold, directly from wax or any other materila that canot be heated).
- Silicon molds, for detailed textured surface or fine text engraving.
- Rubber molds, for large pieces with no perticular surface details (cheaper)
PROTOTYPE/SAMPLE PRICE:
This sample price
is not the production price of the production in series
. Given the amount of time spent in adjustments, briefing our workers, reporting to customers, and the unnecessary stock generated in materials and stones from our suppliers (wholesalers), we cannot sell samples/prototypes at wholesale price.
Estimated weight, labor, plating costs:
The metal weights, gemstones weights, plating costs are estimated from the 3D or the wax modeling and will be adjusted after we create the prototypes. Usually the metal and stones rates remain the same and we only adjust the real quantities.


Minimum Order Quantity for Samples:
Depending on the design, the stones, chains or other materials we might impose minimum quantities for samples.


Specialized Tasks:
In the eventuality that we must charge the prototypes much more than the final product, we will provide both the price for prototype and an estimate of what we think the final price should be in production.
This can happen when we have to outsource a specific task with our supporting specialized workshop like for instance a products made by casting before preparing stamping heads for mass production will see it's price go down only when we start the fabrication by stamping/punching, gold-filled jewelry samples, inlays and fancy cut stones cut-to-fit the molds, and other materials needing samples before obtaining a price from subcontractors for specialized tasks.


(
Payment terms for creation and samples
)
JEWELRY CREATION PROCESS
Customer participation during creation stage:
During the construction of the jewelry prototypes you will receive pictures at each stage of the production and you will have opportunities to give your opinion, modify and participates to resolve technical or supply restrictions, optimize the costs, etc. When you receive your samples you already known pretty much what is in the package for you have seen the evolution of the product from 3D, to the finished piece.
In case some modifications whished by the customer will require extra molds, extra printings or redesign, these cost will be proposed and explained before we operate the modifications.
No definite deadline for Creation, Prototypes and Unique Pieces
This is the longest and most difficult stage of development.
Typically it will take between 6 and 8 weeks to come out with the first prototypes, and can be up to 12 weeks for an entire collection depending on:
- Design Complexity
- Amount of products, and variations of each product
- Materials (standard or additional sourcing time to find specific materials)
- Modifications during the Creation process
- Adjustments, redoing, fitting
JEWELRY CREATION PROCESS TIMELINE
PROJECT SUBMISSION: 1 to 5 days
- First Contact, Submission, Questions, Research, eventual pre-design.

DESIGN STAGE: 1 to 5 days
- A small group of simple items or 1 more complex item

QUOTATION: 1 to 5 days
- For suctioning, sourcing materials, Pricing
- Payment of the CREATION STAGE

The below Timeline is including many materials and processed that are optional (enamel, inlays, stones, chains).
Of course the more the product is simple the more you save weeks of process.
A couple of products, quite simple, can be covered in 4 week.

CREATION WEEK 1 :
- Prepare Files for printing, place supports to avoid incomplete printing
- Wait other designs from other customers to print a full tray
- Print wax, or make wax by hand
- Eventual redoing

CREATION WEEK 2 :
- Direct Mold from Wax, or Casting of a Silver Master
- Adjustments and calibration of the master
- Solving Technical Difficulties can send us back to Design/Printing in week1

CREATION WEEK 3 :
- Eventual Illustrator design + laser engraving of logos on masters - Make a mold from Silver Master
- Test Injection waxes
- Eventual adjustments on Master + new correct Molds

CREATION WEEK 4 :
- Casting
- Cleaning, pre-polish.
- Assembling (chains jobs)

CREATION WEEK 5 :
- Assembling (chains jobs)
- Setting
- Other materials like Wood or stones inlays cut to fit each piece
- Plating (End of creation for simple products with stones)

CREATION WEEK 6 :
- Plating
- Enamel, gluing Wood or stones inlays
- QC, Solve Surface imperfections
- More structural imperfections can send us back to casting in week4

CREATION WEEK 7 :
CREATION WEEK 8 :
- Eventual redoing as explained in other weeks will bring us here...
- Eventual Sourcing problems
- Eventual Queuing in Development or production rush (Productions have priority on Creation)

In case of large collection be ready for another 4 week until every last item is ready.
This depends on the period of the year and high seasons (see our Working Days Calendar).


IMPORTANT RESERVES:

During the production of the prototypes the customer will have opportunities to adjust the product. Very often customers will realize they need to make important changes.

Eventual changes in the design are possible, but it requires to redo some tasks that we already passed (Ex: Wax is printed already, so we need to change the 3D Design and reprint), then we will charge for redoing these steps again, unless the problem was about the quality of execution of the work.
Changes will impact the Timeframe previsions.


A misunderstanding is not considered as a fault from our side, even if we received Technical Designs for interpretation and modeling reference (only bad quality of execution is eligible for free redoing/changes). Adjustments are part of the investment to be made around the product development which can be but is not required to be prefect at first attempt. The more the product is complex the more the customer should prepare to have a second optimized version of samples to made before the product can be put on the market.


If the designs 3D are provided by the customer asking us to work from there instead of paying us for rebuilding the product ourselves, then we will not be responsible for printings issues even if we reviewed the design on 3D before printing. We cannot find all imperfections from viewing and measuring a 3D Object, the safest way is to build it from the beginning to our standards (thickness, pave spacing, etc.).


During the Modeling stage, if the Design is not technically functional (realistic) and if no valid solution is proposed by the customer we reserve ourselves the right to choose the best available solution to render a result as clause as possible to the original idea/concept.


FRIENDLY ADVICES:
Never promise anything to your customers before you have a satisfactory sample in hand.
We know that you need to plan, but going too much ahead of the real stage of the project is a risk. We will not be responsible for promises made for a product that does not really exists yet.
Make sure to keep 8 to 10 weeks between the CREATION of a few product order and your next show, and better plan 4 months in advance for a full collection.


Avoid major changes of the concept or design during the creation stage, unless you are ready for eventually more expenses and delays.


Name your products and pictures, use such product codes to refer to them in your emails. Illustrate your explanations with sketches, a picture with short notes and dimensions on it worth more than a long explanation.
Take the risk and draw something with dimensions and notes. We promise that we will not to make fun of you and we will be grateful for the effort you made.


We work from distance and creation is a slow process.
You will be subject to long periods of being idle and waiting for the results to come. Creation and preparation of a line of jewelry product, and establishment of customer standards is a slow process especially at the beginning of a relationship. It can generate some stress and unsecured feelings.
That is why starting small is always the best solution in order to build trust and to learn how to work together.
Try to not develop more than 5 to 8 products at a time with us at the beginning of a relationship. Otherwise it can be stressful for both parties because the more products are run simultaneously the more we have problems to solve in the frame of procedures tat are not familiar to our new customers.

Thank you.

QUOTATION FOR PRODUCTION IN SERIE
Customer receives and checks the samples:
The customer received the prototypes samples and a few days later we will send the production prices according to real data.
We collect eventual remarks and if necessary we quote for adjustments to be made, new molds and samples.
If everything is perfect then we will be ready to make a Test Production run.
Discount System:
The prices are based on a wholesale amount for the entire global order. We do not set important M.O.Q to give their chances to newborn creators and brands, instead we apply a compensation for small orders:
Small orders considered retail compensation +10 % to +15 %
Large orders considered wholesale discounts – 5 % to -10 %
Retail coefficient and Wholesale Discounts are calculated automatically in PRODUCTS-LISTINGS allowing customers to enter the closest amount to their advantage and make projections.
Minimum Quantity Orders (M.O.Q.):
We try to keep they as small as possible, mostly MOQ will concern silver jewelry products, or gold jewelr products using small gemstones for pave setting (0.5 carat per each stone/shape/size/color minimum) and chains (3 meters per chain), or other materials where suppliers will impose minimums to us, like gemstones cut-to-order, mother of pear carvings, etc.
TEST ORDER :
The very first order coming after samples are accepted is called TEST ORDER.
Generally 5 - 10 -20-50 pieces depending on the product size and complexity.
Purpose of a Test Order:
- Determine the quality expectations of the customer on a series to see which defects are acceptable for him and which ne are not.
- Adjust the price accordingly
- Adjust the Timeframes before making larger orders.
- Check eventual supply difficulties with eventual new suppliers/new materials.
Test Order Terms:
- Even in the event that the first order is immediately a large order it is still considered as a TEST ORDER.
- The penalties for late delivery are low (only 5%) and take effect only after 20 working days instead of around 10 working days for regular orders.
- Penalties as well as timeframes are generally adjusted on invoices for each order depending on the jewelry complexity and known issues regarding the supply. The slowest products in the order can be set for a different delivery date to allow fast delivery of a first group of items.
Final production price :
Once the test order is delivered, and we collected customer's tolerance on quality standards, we will run our data one last time and set the final production price for each product as well as average timeframes. The second order for a new product will be a regular order with more precise timeframes according to the next chapter regarding capacity.
CAPACITY

PONCTUAL ORDERS, SMALL TO MEDIUM PRODUCTIONS :
Small and medium Jewelry Productions, on demand, will generally have a timeframe of about 25-40 working days.

We set the starting date and timeframe depending on the products complexity, the quantities and the workload at the workshop at the time the customer decides to place an order.(Working Days Calendar, and high season periods)


PONCTUAL ORDERS, LARGE PRODUCTIONS :
Larger productions that are not planned in advance, will require 5 to 15 working days of preparation before the production can start in order to source materials and allocate manpower, depending on the products complexity, the quantities and the workload at the workshop at the time the customer decides to place an order.(Working Days Calendar, and high season periods).
The Timeframe will be from 30 to 60 working days. We can arrange continuous delivery every 2 weeks starting from the 4th-6th week in order to accelerate replacing rejected goods, QC, and to allow the customer to start his own sales or deliveries.


MANUFACTURING AGREEMENTS :
The reason for this mutual commitment system is the variety of techniques and materials involved in custom manufacturing, where each customer is having requirements specific to his own collections. We cannot be ready at all time to produce suddenly a large quantity for everyone. Priority goes to the ones who plan in advance, especially for high season like September and November to prepare Christmas.
The more our customer can commit to minimum and regular quantities orders on a certain period (90 days or more), the more we can commit to deliver larger quantities in case of need in a ratio of 3 (max output) to 1 (minimum guaranteed order)

EX:
If the customer commit on minimum 100 of a product pieces every 45 days during a 6 months period then we can deliver up to 300 pieces every 45 days if needed.


Benefits of a Manufacturing agreement :
- Guaranty of capacity
- Fast start upon request for additional quantities.
- Fast turn-over with quality (manpower allocated, knowledge of the product by workers, materials stock)
- Better after sales services like returns, rejections, repairs (continuous deliveries)
- Discount based on the entire Agreement period for quantities.
- Virtually no limit to the production capacity since the customer is building his own production unit progressively we can hire more workers specifically for the account.


Useful Links about Jewelry and Gemology
This page is relative to jewelry design, wax modeling, wax printing, jewelry production and more specifically to our general procedures and services. Using 3D design on computer or making wax by hand we help in the modeling of custom jewelry lines. We are a jewelry manufacturer in Thailand making gold jewelry and silver jewelry production in our jewelry factory, which is more a jewelry workshop dedicated to provide personalized services. Our mission is to bring knowledge support to help customers benefit from the talent of Thai jewelers from in our workshop as well as from our specialized sub-contractor craftsmanship. Whether you are a beginner in jewelry design, a creator or an established brand, we can built together your dedicated production unit, growing with your project and bringing both quality and competitively to your products.